Garrett Bramall, ND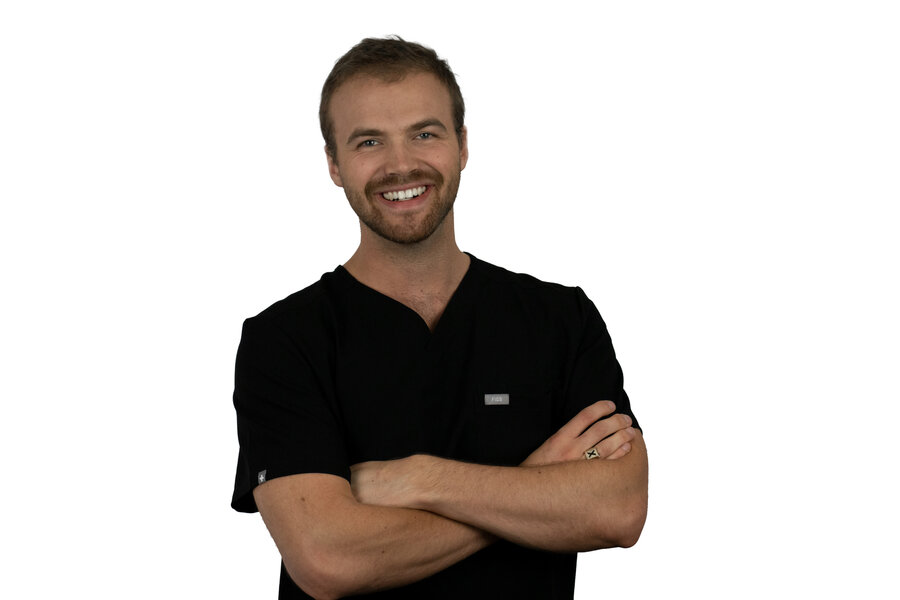 Evoke Life
650-789 West Pender Street
Vancouver, BC V6C 1H2
604-685-1181
Garrett Bramall, ND
Certifications: Acupuncture, Advanced Injection Therapies / IVs, Immunization, Prescriptive Authority, Prolotherapy, Vaccination/Immunization
"I became a naturopathic physician because as an athlete, I always knew there was more that could be done to get me back in the game and playing at my best. I wanted to become the doctor that I wish I had in my corner for all of those years."
Dr. Bramall has been an athlete all of his life. He played for the Junior A burnaby lakers and was a core member on the St. Francis Xavier X-men lacrosse teams while completing his undergraduate degree. He has a passion for Brazilian Jiu-jitsu and mixed martial arts which started at a young age and continues to grow today. Unfortunately, chronic low back pain held him back for years until he stepped foot in a Naturopathic doctor's office. After experiencing a profound response to treatment, Garrett set his sights on learning everything that he could about the profession and has since become a naturopathic physician himself.
Dr. Bramall prides himself in educating his patients about their bodies and empowering them to play a leading role in their own healing process. He works with disciplined, driven professionals and athletes who are tired, in pain and feeling rundown. His mission with each client is to ease their pain, to maximize their performance, their productivity and unlock their fullest potential. This means that at the end of a work day they have the energy necessary to play with their kids, to be present for their loved ones and strive to improve themselves every single day. He emphasizes the importance of establishing a solid foundation while also applying leading edge, evidence based therapeutic approaches to get you results fast.
He currently practices full time at Evoke Integrative Medicine in downtown Vancouver and holds weekend appointments at Prohealthsys clinic in New Westminster BC. He is also a faculty member of Vancouver Career College's registered massage therapy program. He has acted as an editor for several books in the realm of anatomy and sports medicine published by Dr. Nikita Vizniak and co-authored clinical reference texts in both Kinesiology and Nutrition so far.
HISTORY
Dr. Bramall is a proud alumnus of St. Francis Xavier University located in Antigonish Nova Scotia where he graduated with a first class honours degree in Kinesiology and health sciences. He completed his medical training at the Canadian College of Naturopathic Medicine (CCNM) Vancouver campus, a CNME accredited institution. He completed extensive hours of in-class studies, observational learning as well as hands-on clinical training in a variety of clinics including the Family Naturopathic Clinic, Friends for Life, Boucher Integrative Medical Clinic and Evoke Integrative Medicine.
SPECIAL INTERESTS AND EXPERTISE
Athletic injuries

Chronic pain and unsolved injuries.

Concussion

Productivity and performance - burnout, insomnia, anxiety, depression.

Cardiovascular conditions - high blood pressure, high cholesterol, stroke and heart attack prevention.

Metabolic conditions - diabetes and insulin resistance,obesity/weight management, thyroid imbalances.

Headaches - tension, migraine, cervicogenic

Gastrointestinal - IBS, IBD, GERD, Constipation, environmental and food allergies/intolerances

Skin - eczema, psoriasis, acne
PHILOSOPHY
Dr. Bramall strives towards finding a balance between conventional and naturopathic medical approaches. He does this by leveraging technological advancements that assist him in closing the gap between evidenced based research and clinical application. This allows him to deliver a personal healthcare plan that will support you throughout every stage of your life.
Dr. Bramall strives to work with you to identify the cause of your health concerns and to develop a sustainable plan to get you back to feeling your best. Although firmly rooted in an evidence-based approach, he addresses each patient as an individual. He advocates for using both standard and advanced laboratory tests to guide assessment and uses both conventional and natural medicines to treat your unique condition and elevate your health.
Dr. Bramall recognizes that making sustainable changes to your health is hard work. He therefore promises to dedicate time to professional development in order to continually improve his skills and provide patients with the best care possible. He is dedicated to education and leadership as it pertains to elevating the health literacy of his community.
TREATMENT MODALITIES
Prolotherapy and Platelet Rich Plasma (PRP) injections

Joint mobilization (spinal adjustments) and exercise rehabilitation

Diet & Lifestyle Optimization

Advanced Laboratory Testing & Health Analysis

Nutraceutical Supplementation

Botanical & Herbal Medicine

Acupuncture & Electroacupuncture

Intravenous Nutrient Therapy (IV Therapy)

Pharmaceutical Medication

Low Level Laser Therapy (Cold Laser)
ADDITIONAL TRAINING & CERTIFICATIONS
Certified in Acupuncture

Certified in Intravenous Nutrient Therapy

Certified in Advanced Injection Therapies (Cortisone, Prolotherapy, PRP, Viscosupplementation)

Certified in Immunizations & Vaccinations – BCCDC

Pharmaceutical Prescriptive Authority – Canadian Pharmacists Association

Minor Surgery

Intravenous Nutrient Therapy – Dr. Stefan Kurprowsky, ND

Naturopathic Advanced Life Support (NALS) & BLS/CPR – Ohm Medical
PROFESSIONAL AFFILIATIONS
Registrant of the College of Naturopathic Physicians of British Columbia (CNPBC)

Member of the British Columbia Naturopathic Association (BCNA)

Member of the Canadian Association of Naturopathic Doctors (CAND)